To facilitate your travel, you can find instructions and road maps on how to get to the University of Ottawa campus under the "Getting here"
REGISTRATION AND CONTINENTAL BREAKFAST
Registration will take place in front of room FSS 2005 of the Social Sciences Building (FSS) at 8 a.m. Continental Breakfast will be served at the same location on Thursday and Friday morning.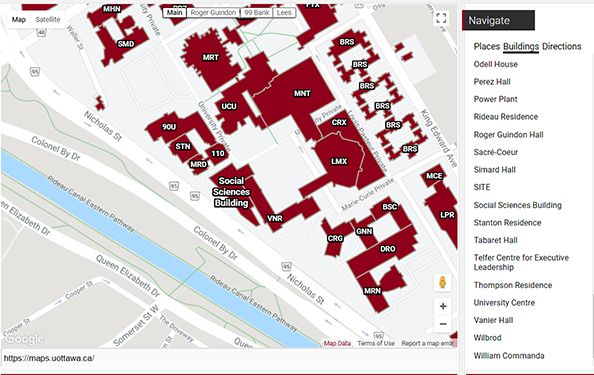 VENUES FOR PLENARIES, ROUND TABLES, THEMATIC SYMPOSIA, WORKSHOPS AND INDIVIDUAL PRESENTATIONS
All conference presentations will take place in the Social Sciences Building, located at 120 University Private; the building code is FSS. Here is a link to an interactive map to help you find your way: http://maps.uottawa.ca/?building=FSS. Here is a list of rooms where the presentations will be held: FSS 2005, FSS 1006, FSS 1030, FSS 4012, FSS 4014, FSS 6004, FSS 7003, FSS 7035 and FSS 8003.
POSTER SESSIONS AND LUNCHES
Lunches during the Conference will take place in rooms 140 and 152 at the Student Residence 90U. Participants will have the option of eating inside or taking their lunch outside and going for a stroll around campus. The Rideau Canal is also nearby and has benches, but please make sure you come back in time for the afternoon sessions. The poster presentations will take place during the lunch break as well. Participants and presenters are welcome to bring their lunches with them to the poster sessions, which will take place in front of room 152, adjacent to the lunch room.
RECEPTION
The Reception on Thursday, May 3 will take place in the Desmarais Building (DMS), 55 Laurier Avenue East, in room 12102. It will feature live music from Canto Sentimento Strings, a viola and cello duet. Check out their website.